What an event! A TONIT trio of us—Jason (TONIT CEO), Falco (TONIT Community Champion Manager), and me Mikayla (Social Media Manager) got to the Vancouver Motorcycle show and we were like kids in a candy store. There was nobody to tell us to look but not to touch.
Ducati, Triumph, Indian, Suzuki, Yamaha, BMW, Honda, Kawasaki, Harley Davidson….there were so many bikes! We set ourselves a challenge to choose just one favorite, but that was really tough. There was a bike for every rider, every riding style, and every skill level—and in the end, we managed to wrestle with ourselves and choose just one favorite each.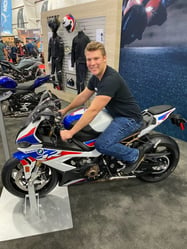 Jason — His pick? A 2020 BMW S 1000 RR M $20,695 USD
"I currently ride a 2015 BMW S 1000 RR, and have been wanting to upgrade to the 2020 since the day it was released. I'm a sucker for BMW, and this bike has everything I'm looking for. With carbon fiber rims and 207hp, this bike is built for the track. The power delivery on my 2015 is amazing, and I know it will be the same, if not better, in the 2020 model. With the modifications to the headlights, the sweet color scheme...this bike has everything I'm looking for in 2020." This fast bike was totally Jason's style and I can't say it surprised me that this was his pick.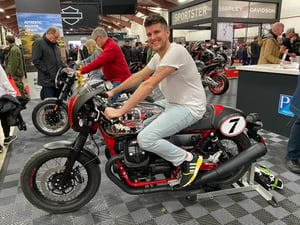 Falco — He drooled over picked the 2020 MOTO Guzzi V7 III Racer 10th Anniversary $11,990 USD
"I mean, look at it!" The color scheme and dark chrome gas tank are easy on the eyes, but with the all LED lights (headlights, tail light, and all singles), the V-twin engine, and a shaft drive...this bike is a beauty." I'm just gonna note that according to Falco, "It's Italian and NOT Aprilia or Ducati so I'm even more intrigued." This bike stole Falco's heart from the moment he saw it. Falco's a sucker for gorgeous design, so this really fit him.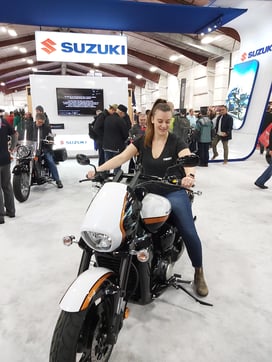 Me! Mikayla — 2020 Suzuki Boulevard M109R B.O.S.S $12,672 USD
Hooked. On. This. Look. I mean wow. I stood looking at it for about 5 min before actually hopping on. The paint job alone was calling my name, because I'm a sucker for a clean, mean-looking bike that screams open road. This bike is stylish, sexy, and strong (like yours truly) with a 1783cc V-Twin engine, it's ready to hit the road. Plus, it has the widest tubeless rear tire Suzuki has ever used on a bike: 240/40R18M/C 79V. Love this so much!
So here it is. Our bike choices (basically our souls) out on the line for all of you to see. We've shared our favorite bikes from the show...tell us which ones are YOUR picks—and why!