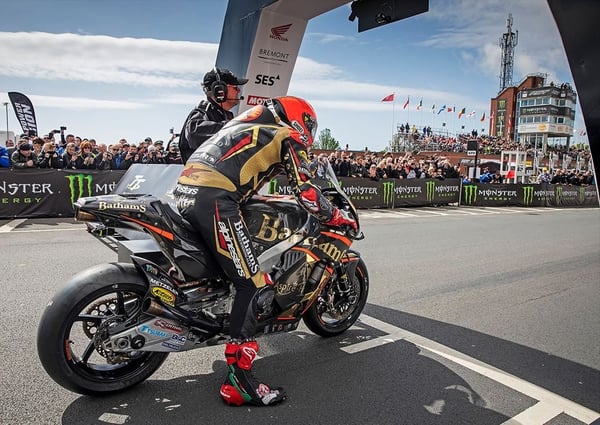 The countdown is on! 179 days, 0 hours, 51 minutes, 47 sec - no, 46 seconds until the Isle of Man Tourist Trophy 2020. It's been called The Greatest Road Race on Earth, and judging by the ever-increasing top speeds, decreasing lap times, and thrilling new categories, it seems to get a little greater every year.
The very first race in 1907 saw Triumph, Norton, Matchless, and other classics duelling for the prize. Today, you'll still see those names alongside a diverse display of machines, including the top three all-time trophy winners: Honda, Yamaha, and Suzuki.
In 1907, the top lap speed was set by Rem Fowler's twin-cylinder Norton at 43mph (69kmh). 2018 has seen the fastest lap speed yet by Peter Hickman on a BMW S1000 RR - 135mph (218kmh)!
Although the past two decades have seen an influx of everyone's favourite Superbikes and Supersports winning the coveted trophy, you don't have to be a Super rider to appreciate the challenging courses and amazing location of the IOMTT. There are several categories ranging from sidecar to superstock to lightweight.
The unpredictable weather is just another competitor on the island, but it happens to have the unique ability to cancel entire races - the courses are risky enough without a thick curtain of fog and mist obscuring rider vision. Several races in 2019 were shut down or cut short due to the unsafe conditions. Records are waiting to be broken - we'll see what the mix of weather and riders brings in 2020.
Has anybody bought tickets yet? Something to consider if, like the TONIT team, you are at the start of the winter doldrums. Check out www.iomtt.com/ for more details. (By the way, if any TONIT user signs up to race in the Newcomers class, we sure would love to hear from you!)
Photo: Isle of Man TT Races